BIGGEST LINE-UP OF 80S ARTISTS IN THE WORLD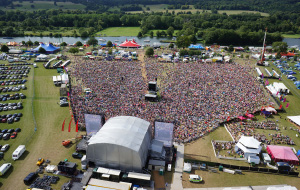 ORIGINALLY LAUNCHED AT TEMPLE ISLAND MEADOWS IN 2009, REWIND THE 80S FESTIVAL BOASTS
THE BIGGEST LINE-UP OF 80S ARTISTS IN THE WORLD!
It has proven so popular, that in 2011 "Rewind Scotland" was launched at Scone Palace in Perth and Rewind South Africa took place in February 2012. Due to such success, in 2014 "Rewind North" was launched. The festivals have attracted iconic 80s names such as Holly Johnson, Human League, Gloria Gaynor, Kim Wilde, Village People, Bananarama, Billy Ocean and many more. You won't be surprised to hear the festival attracts over 40,000 people and is a consistent sell out!
Rewind South, Henley-On-Thames takes place 18th – 20th August 2017
The world's first and biggest 80s music festival, is back for 2017 at the glorious Temple Island Meadows, Henley on Thames.Now in it's ninth year the Rewind South festival features a fantastic line up of the biggest acts from the 1980's.
Tickets go on sale at 9am on Friday January 27th, 2017.
'Saturday Night is Party Night' at Rewind South with a fantastic headline performance from New York's finest, VILLAGE PEOPLE (YMCA, In The Navy) and GLORIA GAYNOR (I Will Survive, Never Can Say Goodbye). Sunday night is the night to totally Rock Out!! featuring the one and only STATUS QUO (Rockin' All Over The World, Whatever You Want).
Brand new in 2017 at Rewind South are Scotland's Big Country and Tom Robinson, Musical Youth and Junior Marvin's Wailers. Kim Appleby makes a very special Rewind South appearance to mark the 30th Anniversary of the release of Mel & Kim's 1987 chart topping hit Respectable. There's also a Rewind South debut for the Sex Pistol's Glen Matlock, Jilted John, Owen Paul, and Rozalla who perform with super-group British Electric Foundation, alongside Heaven 17's Glenn Gregory.
In a UK festival first, Rewind South will also play host to an incredible performance from the sell-out West-End show Thriller Live.
Level 42, Sugarhill Gang ft Grandmaster Melle Mel & Scorpio's Furious 5, Nik Kershaw, Nick Heyward, Dr & The Medics, Imagination ft Leee John, Midge Ure, Kim Wilde, Belinda Carlisle, The South, Go West, The Christians, and Ex Katrina & The Waves, complete an amazing weekend of 80's acts.
Rewind Festival is a celebration of music, fun and good times set to a live 80's soundtrack from the biggest music icons from the decade of day-glo and big hair.
It's the biggest party of the summer with camping, glamping, posh nosh, theme bars, DJ's, street entertainment, funfairs, silent disco, big top bars, kidzone, fireworks, trade stands, fancy dress and much more.
SRB Moorings and Hobbs of Henley River Taxi available.